OKS Universal Mental Health Promotion Program

 About
Single session psycho-prevention education program consisting of two parts, a psycho-education part and a skill training part. OKS program can be implemented within a single 50-minute class.
・The program is based on the cognitive behavioral therapy and enhancement of meta-cognitive awareness by the friend advice detach method. Effects have been verified.
・ Implemented for a total of more than 5,000 people
・ Experimental process was approved by Chiba University Ethical Committee
・ OKS program is an acronym for Onayami Kaiketus Sakusen, (Trouble Solving Technique)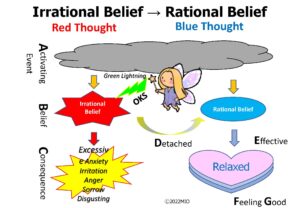 Configuration Features
Adopting rhetoric aimed at strengthening metacognition while taking a structure based on the cognitive model
The process is easy to remember as you practice writing it on the OKS sheet using symbolic colors and shapes such as red thoughts, blue thoughts, green lightning bolts, and ocher mussels.
With the above words as a common language, a habit for talking about emotional problems between students or between students and teachers is naturally created.
Using the developed Friend-Detach method, we emphasize the shift of the viewpoint to objectively view ourselves (acquisition of metacognition), so no need to distinguish and identify the cognition and the emotions firmly like cognitive behavioral therapy.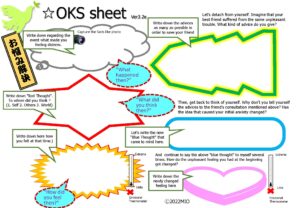 Merit and Evaluation in the field
OKS Program can be implemented only within 50 minutes and the content is easy to understand, and since all material required will be supplied, it can be easily implemented by teachers. Besides the content of the implementation can be customized flexibly.
OKS program is in line with Japanese school culture and assumed various type of adaptive implementation. This program can be used free of charge.
You do not have to analyze the result data yourself, and you can receive reports from research institutes for the results you want to obtain.(charged).
It is possible to compare the mental health of the class with past experienced data.
It has a high affinity with moral educations (Doutoku/道徳) and can be conducted within the moral education frame in Japanese school settings.
Can be used in combination with existing class climate improvement measures (planning to collaborate with hyper-QU)
By continuing to implement the program, and  using scales in questionaire , it is possible to track changes in students across years.
Highly rated by students and teachers in pilot implementation

Result
The results of the self-administered questionnaire showed a reduction in red thoughts (irrational thoughts), an increase in self-esteem, a reduction in stress response, and a reduction in anxiety / depression.
Using the QOL scale for elementary school pupils, the total points increased significantly due to the implementation.
By filling the form of advice to friends in green lightning column, an improvement in self-affirmation and self-esteem that I can help my friends was also observed.
The awareness that I could ask my friends for help grows.
Self-efficacy increased by being able to change one's feelings by oneself.
It is considered that the enhancement of better metacognition (state of detached mindfulness) could be obtained in a shorter time than other psychotherapy by the friend advice method.
In addition the preceding studies revealed that to strengthening metacognition can be expected to improve academic performance.
Although the effect on students with extremely low mental health is limited, questionnaires can be used to identify those students. And by continuing the questionnaire, it is possible to know the changes of those students and lead to timely support.

Academic Paper Link
Osaka University Knowledge Arvhive
OKS Sheet(English) download

Contact Form
=====================================